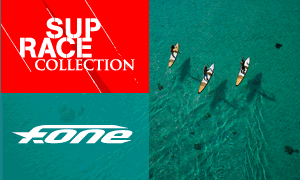 The 1st of the 2014 F-one range to be announced are the new racepro standup boards. The culmination of intensive R&D and winning races. Race Pro 2014 will be available as of July if pre-ordered in June ! Send your enquiry to
sup@f-oneaustralia.com
Sizes available
14' x 26
14' x 23.5
12'6 x 28
12'6 x 26
12'6 x 24
There is also an inflatable 12'6x29 planned, and a revamp of the famous F-one race.tourers.
As soon as the pre-production boards hit the water they started winning races. Recent results at all the races they attended speak for themselves, completely dominating:
1st & 2nd SUP RACE CUP 2013 - a most important world event in its 4th year.Arthur DANIEL 1st and Gabriel BACHELET 2nd on the racepro boards with F-one paddles.
1st North Point Stand Up Classic - Arthur DANIEL came 1st in beach race, 1st in surf in youth category and 1st in combined, Rémi QUIQUE finished 2d in the surf race. Great performance at Crozon!
1st Mondial du Vent SUP race, another high profile event - Arthur DANIEL is 1st at the beach race of the Mondial du Vent and Gabriel BACHELET 2nd again.
Also in surfSUP Manu PORTET is Aquitaine Surf Champion ( France) and Thomas LA FONTA is second in the Aquitaine. Plus the performance of Patrice CHANZY at Teahuppo Tahiti has reverbrated around the world.
There is no doubt that F-one Standup is a class leader across the board. Treat yourself and get on an F-one today.